Part 1
Part 2
These 2 videos are about Sonia, a black labrador who changed from black to white after the owner died. The vet interviewed in the excerpt had said that it was probably due to stress. Julia is the daughter of Sonia. The owner had Liver cancer and had to be hospitalised initially, and later got to return home. However, he died at home and Sonia discovered him. Till the time of production, Sonia was still waiting at the door everyday for her owner to be back.
This is a super touching video. This is just a demonstration of how faithful, loyal and attached our dogs are to us... *sob sob
10:50 AM


Hi guys!!
We're here to update our blog!:) Chevro just turned 5 on Sunday, his birthday was on 6th December. Due to recent rainy season in Singapore ever since Mummy ended exams, we havent been going out alot.. even if we do, ONLY Camry gets to go out.
Camry: hiak Hiak. of course, i'm easy to shower and easy to dry.
Chevro: Life is unfair, just coz i take 2 hrs to dry... I go out much lesser......:P
Cayenne: whatever, as long as I can eat and sleep.
On Saturday, the 5th december, we had a small little outing at Colbar with Max and Brady. But we totally forgot to take pics coz the pawrents were so busy catching up! But we did take some pictures at Sentosa.. just a couple. but the lighting was horrible...
Camry: AInt I cool! hiak hiak. Poor Cayenne. She totally missed this cool weather man.
Cayenne: Orh. I'm content, coz I hate to be freezing cold.
Chevro: Ya man. it was so darn cold. I regret going for this.
Chevro: Orh. those beagles are scary!!
Camry: not really. You're just timid dude.
And then. we headed to colbar. and then we headed home. where the pawrents SUDDENLY decided to do some xmas shots for us...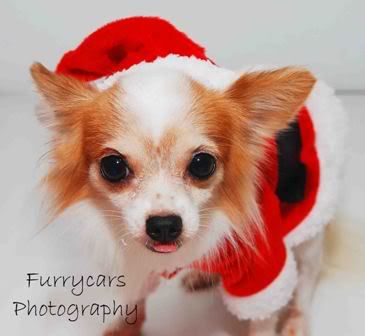 Chevro: Hi guys! Its me!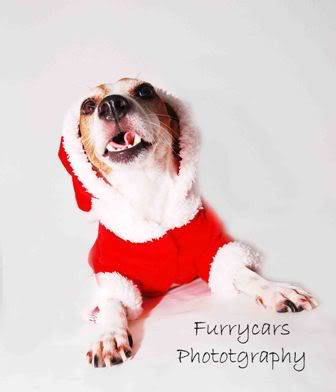 Camry: nothing beats me man. I;m the best looking jack russell terrier ever...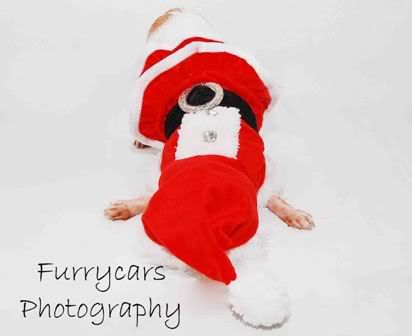 Cayenne: Yeel. I hate wearing this. its so ugly. i feel damn embarssed.
Furrycars: here's the 3 of us. Aint we cool!
CAmry: As usual, Chevro's ANTISOCIAL!
Chevro: these 2 are so sticky to one another. :P Bleh.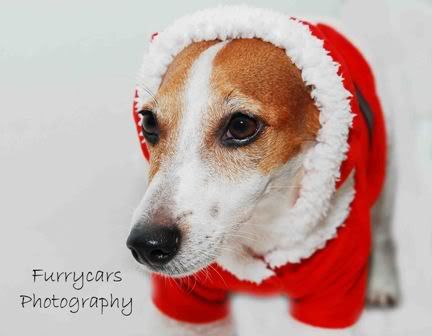 Camry: I'm tired. are we done??
Sighz. we'll try again and get better shots another day! as both our pawrents are dissatisfied with these pictures, complaining of our uncooperativeness....
Camry: especially Chevro! Its all his fault.
Cayenne: YA!!!
Chevro: There's still time before xmas, let me try again?
Anyway. pawrents are heading to Malaysia tonite... will be back on Saturday! Till then!!
7:04 PM


Hi guys!
Another belated post. Mummy's bz with her exams as they are commencing next monday onwards..
We went to Sentosa on Sunday, and it was an in-prompt to decision to make the trip there.. Happy and his parents called us really last minute and we took a taxi there..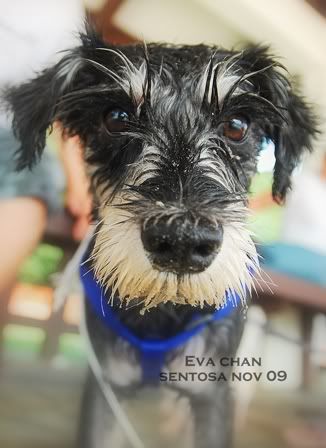 This is Happy!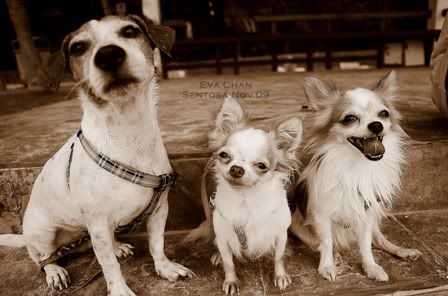 Here's the 3 of us at Sentosa...
Cayenne: come on, stick out our tongues and we can get food!
Chevro: Alright!
Camry: Bleh. I dont buy thier promise to give us food. THey always make us stay for DAMN long and dont give us food.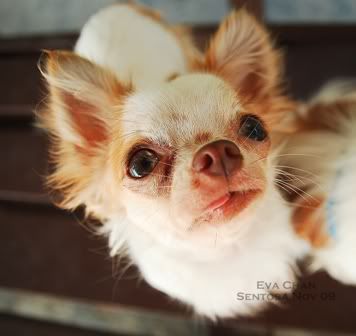 Cayenne: What about if I do this? Can I get food?
Mummy: YES! I love this look!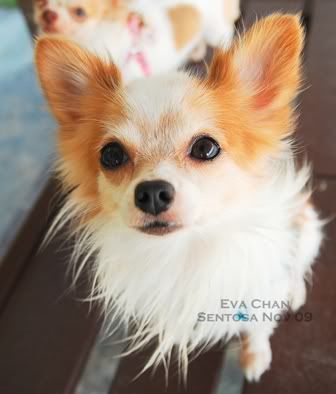 Chevro: What about me? I can do it too!
Mummy: Alright! I cant stand all of you giving me this look..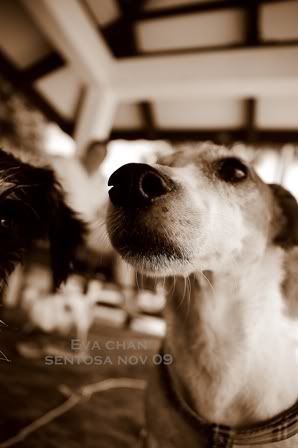 Camry: what about me?
Mummy: Sorry Honey. U dont make the grade. try harder!
Camry: FLIES FLIES FLIES!
Cay and CHevro: AGAIN!
Chevro: Trying to act nostalgic.
Chevro: what about this?
Mum: GREAT!
Camry: Happy was on this SUPER extended leash..poor boy..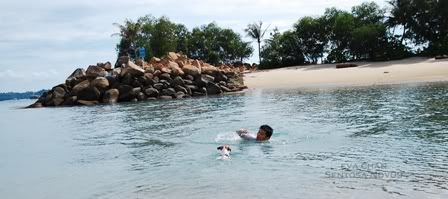 Camry: Daddy, wait for me! I am coming!!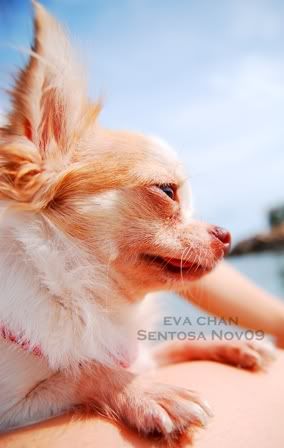 Cayenne: enjoying the sun, sea and handsome dudes prodding around the beach.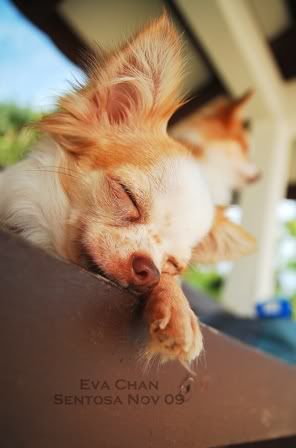 Cayenne: Zzzz
Camry: AGAIN! LAZY
Ok Guys! we'd update again in 2 weeks! Do come back to visit!
Love,
Camry, Chevro and cAyenne
1:30 AM


Hi guys! We havent been updating coz mummy has been really really busy at school!
However, we are back! and we will be updating more frequently as much as mummy can! dun worry, we'd bug her!
just 2 weekends back, Mummy and daddy insanely decided to bring us to some place called " woodlands dog run". this place doesnt exist. rather, it was simply a piece of green field with nothing much... and we went during NOON! it was really really hot. So hot that even mummy was lazy to take alot of pictures...
Chevro: Stupid Camry, running around in this weather?? I've better things to do...
Chevro: I shall just sit here and pose while that CRAZY camry runs around...
Camry: What about Cayenne? She was lazing around, begging to be carried, what a loser!
Chevro: acting cute. As ALWAYS.
Cayenne: No I am not acting. I am ALWAYS cute.
Camry: Oh well. crazy chihuahuas!
Chevro: can we head home? this place is insanely hot. i dun wan to stay here anymore..
Camry: agreed. a shower would be good.
Cayenne: anything, as long as someone carries me?
Everytime the 3 of us hang out together, people would start asking if we get along well. Especially since Camry looks fiercer and much bigger in size than the other 2, people always assume Camry bullies the other 2.. the fact is... things are not the way people think it is..
Chevro: I'll be your guide while those 2 start.
Does this photo look scary, and seems like a life threatening situation for the chihuahua? Fret Not... this is just the crazy little gal bullying us older folks..
Chevro: Usually, and surprisingly, the loser is Camry.. She's horrible..
Camry: COme on! what about how you behave when Cayenne bugs u?\
Chevro: when people see this, they would usually go.. " OH NO!" and pick up Cayenne. The assumption that Camry would really snap at Cayenne is totally wrong! this has never happened before, and Camry only allows that little ger to nibble on her..
Camry: I look scary dont't I? its as if I will eat this small little thing up? Come on! this is not the movies.. I'm not a monster. she's the monster though...
Cayenne: HAHAHA I won. Smell my butt
Chevro: hello dear, you are caught on camera!
Camry and cay: WHAT??!! we demand this picture to be deleted?
Camry: This is reality. I dont eat chihuahuas. and I'm actually the one suffering under this crazy little ger. nonetheless, I really love this little sis of mine...
Pardon the ugly pictures as mummy forgot her flash, and was working with the flash built into her camera. and this flash really sucks.
This Sunday, we are heading to the SKC dog show. Do drop by and say Hi to us if you see us! Camry's joining events in the companion dog show section. we hope we win something for the doggies at the shelter!!
Tadaa! we promise to update again soon!!
1:14 AM


Hello guys!!
We havent been updating as Mummy was away in korea for a week.. And we havent been out often... Sadly.
Today we attended Cookie's Birthday party! Pictures will be up soon, as mummy didnt bring her camera today, and used Joey's Camera instead... shall wait for her to upload the pics for us...
But anyway, here are some pictures from our doggy outings these few weeks...
Camry...
Chevro..
Crazy little Cayenne...
Our Friends...
As there are simply too many pictures and too many accumulated overtime... we have decided to work on a collage for this entry! hehe.
AS mommy just came back from korea, we will have some pictures of Korea coming up soon!:) Stay tuned!
1:02 AM