Hi all,
this week had been pretty tiring for us, as we were running around both days of the weekend.. Very few pictures this weekend as mummy is trying to rest her eyes, before she goes for her lasik on Friday.. hehe...
THese 2 days, Mummy and Belly's Mummy were going to Annie's pet corner for thier sales... haha. and they have been buying so many things these few days...
On Saturday, we went for the Punggol Pet Carnival, and Cayenne got 2nd for the funniest pet photo contest...:)
And she got a big trophy!! lol. will post up pics of that soon.. coz mum left the trophy at a fren's place!!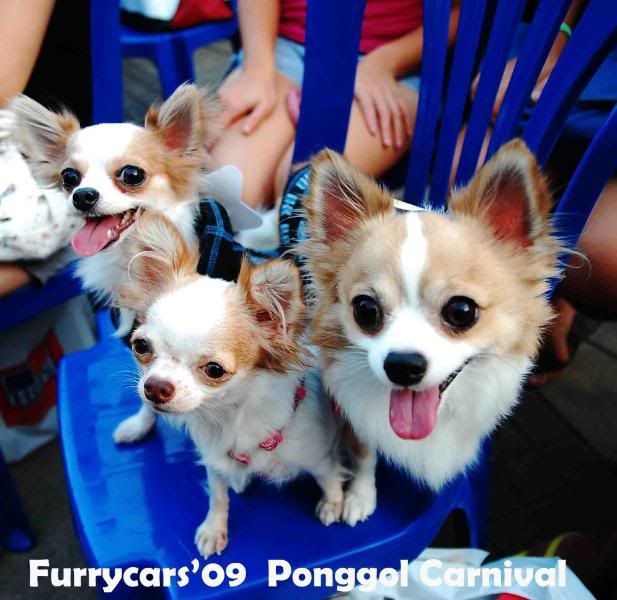 Here's a picture at the carnival, taken with Xiong xiong and Yum Yum, who nearly won the trick contest!!
On sunday, 3 of us then went to the Dogs Day out at the park event at west coast park.. however, mummy did not bring her camera, so... No pictures!!haha.
Mummy has been taking pictures of these puppies who are SO ADORABLE weekly! THey are chihuahua puppies, and mummy is looking to do some sort of photo update on the puppies..:)
here are some taken just on Saturday...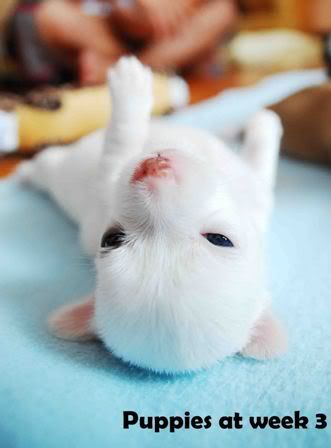 Ping ping the pretty boy!!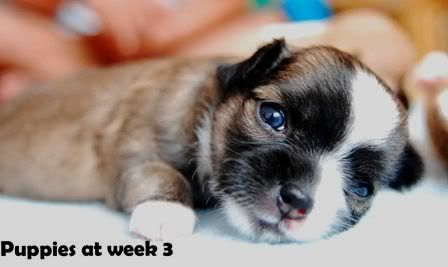 Anan the long haired ger!!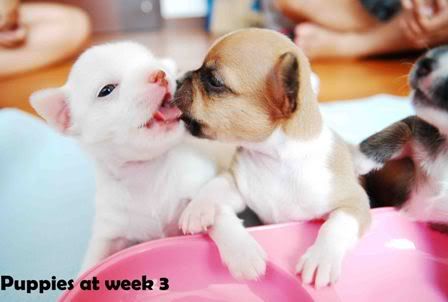 Pingping and Niu Niu..
The 4 of them!!
For more pictures...
SO long people! shall be updating again on Saturday!!
1:01 PM


Hi all,
This weekend, our parents brought us to Tanjong Beach in the morning, and guess what, we all had to wake up at 6am! this is totally crazy for us, who usually wake up at 12pm daily! we were celebrating Belly's bdae, but mum was so busy handling the 3 of us, she forgot to take pics of the cake and of Belly with the cake!! Sorry to Belly's mum!
Camry: Yawnz...Why are we up so early?
Cayenne: Ya,I can barely keep my eyes open man.
Chevro: Stop chewing on my ears and trying to pluck fur off my ears...
Cayenne: I don't care, You promised You'd play with me today.
Chevro: Yes, but its really too hot today.
Camry: LET ME OUTTA HERE!! All the naughty ones are leashed here...
Zai and Momo: We make a good couple, don't we?
CamrY:Man, Can you guys chill? even I feel embarassed watching u guys...
Camry: this is mum's favourite shot of Momo...
Camry: here's Rain swimming to escape to shore...
Camry: here's what we call making a big splash!
Mummy: Why must you come into the sea like this each time?
Cayenne: Life Jacket borrowed from Bubbles, coz Mummy said I couldnt swim at all! And she couldn't bear seeing me drown another time..
Cayenne: I dun want to wear this! Why cant I swim like Camry and Chevro without life jackets?
Cayenne: ANother one of Momo..
After we left the beach, we headed for West Coast Dog Run. However, it was pathetic coz there was nobody there... By the time we reached the dog run, we were dead tired.... Thus, we were just slacking around until around 5pm....
Chevro: Ohh.. I'm not hiding in the shade, just trying to cool off abit here...
Camry: Ginger, BALL CRAZY FREAK! LIke Belly..
Chevro: ALright, to show u I am not like some loser who focuses on chasing flies at a dog run, I shall do smth and wake my sleepy sister up...
Camry: WHAT LOSER?
CAmry: poor Button, got grabbed by the Lingerie models at the beach and his mummy freaked out coz she couldnt find him at all.
At the end of day, we were all so tired, we all fell aslp by the time we reached home... Even plans to meet up after showering us were cancelled, coz mummy and daddy were so tired!!!
Stay tuned for next week, we'd be gg out again on the weekends!! Here are more pictures by the way!!
10:12 AM


Hi all,
This entry would be dedicated to pictures mum took when she was in Phuket!
This weekend we'd be going out to celebrate BElly's birthday!!
Camry: The hotel Mummy and daddy stayed at.. Looks like a REALLY Cool pool, Wish I could go too!
Camry: The strays at Thailand all look really well taken care of, and tehy are everywhere!!
Cayenne: WOW! the ocean is SO BLUE! this is TOTALLY different from the yellowish mirky waters of Sentosa!
Chevro: Just look at how blue and clean the ocean is! Man. I would love to swim there.
Camry: Holey Moley, the sunset is pretty! Singapore's so UGLY compared to this..
Cayenne: Mum says this is Mai Khao beach, a private beach for the people staying at her hotel.. Pretty isnt it? but the waves are way too strong for us to swim at all man.
Camry: wow. These look yummy to me!! muahaha
Mummy: Snorkelling was so fun!! hehe. got to see even more fishes!!
Camry: I wanna go too!
Mummy: Do u even know what snorkelling is?
Cayenne: THis is the famous Phi Phi Island. Its beautiful, but too many tourists!
Camry: this was the sunset boat tour mum took! So cool..
You guys can view the rest of the pictures at
1:28 PM


Over the weekends, we went all around, and Mummy and daddy despite having to rush ard, still took time to bring us out..
We went to the clubpets carnival.. It was pretty small, and there wasnt much to see or to buy.. Hence mummy and daddy only stayed for awhile before heading to Bishan dogg run...
Oh ya, and when we entered the area, we were all warned by friends, telling us of a tragedy that occured just before we arrived.. A husky bit off the eyes of a chihuahua!! the eyeball dropped off, and from updates, the poor chihuahua is now blind in the eye... Sighz..
ChevrO: its a small carnival...
Cayenne: Here's Sweetie, a really tiny chihuahua! she's beautiful, unlike me..
Cayenne: Sweetie raw!! haha. she's so tiny!
Cayenne: Mum says I look like some dumb bimbotic ger! haha
Camry: AS usual, CRAZY looking... hiak hiak
Chevro: here's Momo!! she's really curious. but Momo and dodo are really good swimmers..
Cay: HELP!! I CANT SWIM!
Chevro: i tot u could! u always swim so well?
Cay: PHEW! FInally out of the water!
Chevro: Look at the beautiful sun and sky!
Camry: here's Belly!! haha. his face is too dark to be exposed! muahaha
Camry: Swimming is easy! I enjoy it
Camry: this is Sentosa! and that small little sexy butt there is mine!
Whose Butt is this?? hehe
Cayenne: take 5! Need a short break
Camry: Zai zai has grown up! He's so adorable
Chevro: who said chhs are lousy swimmers? I just dun like getting wet..
Camry: Cna u go faster?
Chevro: How to? It would be unglam!
Camry: ....
Camry: wOAH! today's waves are ferocious!
Chevro: Where would be a cleaner place to clean myself??
AHH!! Daddy and Mummy are gg for a short holiday to Phuket, THailand on thursday, and would only be back on Monday. I guess we wun be going out for awhile! SOBZ...
11:14 AM