Mummy and daddy are back!!
Cayenne: Finally! they juz picked me up from my godma's place...
Chevro's ticks are finally cleared! but still bz killing ticks in the environment... they are darn gross.. Chevro's body's cleared of ticks at last!!
Anyway Please vote for us! We are
G11
~~
Cayenne and Chevro's picture was featured in clubpets in clubpics this issue!! muahaha... Mummy's gonna collect thier gift soon! And mummy said she will update pictures of Cambodia soon~~ keke..
So long peeps!!
4:42 PM


Merry xmas to all!!
Cayenne's at her godma's house, and Chevro's with daddy, and full of ticks, Daddy and mummy are busy clearing his ticks before they leave for Cambodia at 4am later...
So, I am the only one left at home!!
Wishing a happy merry xmas to all!!
11:18 PM


Its a boring Afternoon, mummy's busy giving tuition today.. and tonite she's going for some xmas party with her friends she knew from Japan... So here we are, self entertaining...
Its tiring tugging with Jie Jie.. she's so much more energetic..
alt=""id="BLOGGER_PHOTO_ID_5282877367103664242" />
Jie jie dun wan tug with me, so I shall tug alone...
Tug tug tug.. tug.. tug.. tug..
Camry: Do you know you are quite irritating?
Cayenne: I am a puppy mah, of course muz tug somemore!!
Camry: OKOK, scared of you liao, shall tug like the way a JRT does!Watch me, Kid!
Camry: Wah, you got stamina eh? Let's continue tugging, lying down...
2:55 PM


Hello all!
Yesterday, we went to Sentosa Tanjong beach for the Chibuddy xmas party!..
Mummy brought Cayenne and Camry out... Chevro's excluded from this because, he's infested with ticks, and mummy thought it would be very irresponsible to bring out a dog with ticks...
ChevrO: SOBZ...
Here's a shot of Camry by auntie Anna, and mummy did some editing to reflect what she felt...
Camry: Yes, mummy, glad u noticed, but why didnt u save me?
Camry and Cayenne: Here;s the 2 of us! the babes of daddy and mummy!
Cayenne: muahaha, Jiejie, stop tanning la.. play with me
Camry: cant u juz leave me alone, at least here?
Camry: I am a very strong swimmer! unlike that lousy Cayenne..
Cayenne: that;s coz i swim to keep myself cool! so I will just stay around the shore to cool off.. u're dumb, working up a sweat..
Mummy: I loved this shot, Cayenne darling, thanks for posing there! hee..
Cayenne: Mummy, the sun's really hot, are u done?
Camry: Hello Mummy! can U pls bring me to somewhere with aircon? Its too hot here... Please....
Camry: Oh MAN! I knew it, alright, I will pose... now gimme that fish treat...
Cayenne: I am so disappointed in you. Trying to imitate how mummy talks to us sometimes...
Bowie, who's leaving for USA today! We wish him all the best with his new life! Muz be really fun! Unlike us being stuck in tiny island Singapore...
Camry: Auntie Anna did this for me! Cool rite?
Camry: Mummy! I told u I wasnt in the wrong! why did you have to scold me in front of everyone....
To Camry:
Mummy: Sorry baby! Mummy's so sorry! I am sorry for scolding you before checking your body. I am sorry for not noticing that you were bitten and assumed that you attacked.. I am sorry darling.. Mummy will take note next time, I am sorry for the hole which you got bitten at ur ears.. Please forgive mummy...
8:04 PM


Please vote for CHEVRO!! voting has been extended to Jan 15th...
CHEVRO IS CONTESTANT D!
12:02 PM


Mummy juz came home from teaching tuition... and as she was waiting for 8pm for her driving circuit lesson coz her driving test is tmr, she decided to take pictures for us... Lazy to set up, so mummy used whatever that was available at home, despite it being a gloomy day....
Cayenne: Look how cute I am!!
Camry: BLECH! stop acting cute...
Camry: Oh Man, Mummy you are biased!! I was aiming that toy for so long... and you are giving it to Cayenne...
Mummy's fav shot of the day... hee...
cayenne: Jie Jie! I love you!!!
Cayenne: Jie Jie's paws are so big!
Cayenne and Camry: We work hand in hand!
Cayenne: Seems like mummy loves the way my paws touch jie jie's... haa..
cayenne: Yawnz.. I am getting tired...
THat's how Cayenne looks like when she's sleeping...
Camry: So fake lor. Act cute even when sleeping.
caYenne: Are you shooting me? Wait ar, I close my eyes 1st..
Camry: SO FAKE!
Yawnz, time for afternoon nap!!! hee... Zzzzzzzzzzz
4:06 PM


Today, Mummy took Cayenne out only. (AGAIN!)
Cayenne: Camry was whining when we left, but who cares about her? hiak hiak!
Mummy: tat's coz.. we went all around, and Camry's too heavy to lug around... hee...
Mummy took us to view a wawa from a show breeder, it was so so so so pretty! I really wanted a little brother like that... but sadly, mummy said 3 of us are already giving her a big headache, so mummy and daddy decided against it...
After that we went to Auntie Shirleen's house, met Caramel, Chubby and Rhea! Rhea is still so tiny, at 4 years old, she's still 900grams!!!
After this we met up with my godma, Liza, who kindly drove us to the dog run... we went to Bishan dog run and saw our friends, momo and dodo there... haa.. Momo's still so adorable!!
As usual, I was busy finding tails to wrestle with... hiak hiak.... Here comes the pictures...
Here's me with a really beautiful shiba Inu...
Here's a pretty Corgi babe hee..
I still preferred the shiba inu...
here's me sourcing for a potential target...
YES! I found one, her name's Jingerbell!!
ready....... GO!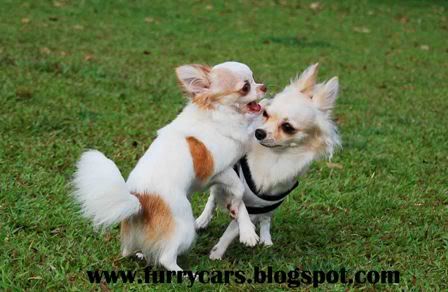 Wrestlemania...
Pinned her down at last! haha..
again, another round...
here's me with Nicki... who's a super humper!!!
Here's handsome Bowie.. he has a really really nice pair of eyes, and fur!!
here's brady and his mummy~~ hiak hiak...
After the long long day, i went for dinner with mummy and daddy, we had Beef from Uno steak house near SP, then we went home, and I had a great shower together with Camry Jie Jie!! hee...
I will be staying with my godma during xmas coz mummy and daddy would be going to Cambodia.. hee... Alright, I am so sleepy... gonna sleep with Camry Jie Jie already! Shall update again soon! we;re all going to the beach next saturday!! so excited!!
12:45 AM


Cayenne's staying with Camry for the time being, coz Chevro's behaving weirdly, sniffing at her continuously.. as a precaution,Cayenne's shifting over with Camry...
HEre's us playing with that Squirrel interactive toy from pets station.. keke...
Cayenne: I love snatching things from Jie Jie!!
Cay: I snatch anything and everything from Jie jie..
Camry: The squirel's mine!!!
Mummy loves this picture...
Our Squirrel toy~~
Cay and Cam: We're tired, let's just lie down and tug...
CAyenne: I follow Camry everywhere, anywhere and anytime...
Cayenne: I am nt afraid, even if it is food!! hiak hiak!!!
Cay: U dun give me food, I chew your paws!
Hello Camry!! I love you!! I prefer u so much more to Chevro..
Our dehydrated Chicken feet..
This is really yummy!
Camry: you little devil, I am so tired entertaining you whole day long... crazy ger, arent u ever tired???
12:32 PM