HAPPY BIRTHDAY CAMRY!!
YOU ARE 4!!!!!!!!
TIme really really flies. Camry's birthday was on 23rd April, she was born in the year 2005, and we brought her home when she was exactly 2 mths old, 23rd June 2005.
Camry: 1 mth old me. SO CUTE.
Mummy: it sounds weird, when it comes out frm your own muzzle. :P
So many things have happened since u came into our lives, coz u are simply... accident prone.
from the fish bone incident to the recent fish hook incident, I must say u really make me and daddy determined to take good care of u. JUst a moment of slack on our part, would probably amount to deep shit for u. coz you are so naughty! even at 4. but we LOVE u....
We thank you for being part of our lives. and we promise to be with u till the day comes for us to part. we will never never give u up regardless of the situation.
Camry: Wow, Cable car!! I remember this! the 1st time I went to Sentosa, when I was 5 mths old...
Camry: My crazy parents. They loved doing this to me, coz i love suntanning.
Sadly, ur bdae has been falling on my exams these past 3 years, coz it is always exactly during my study break for my final exams, hence we do not get to celebrate for u. Thus, in this post, we will be putting up pictures of Camry's first birthday! I promise to celebrate future birthdays with you, coz I only have one more year before I am no longer tied by the disgusting examination dates! Woohoo...
Pictures from 2006, When Camry was 1...:)
Camry: My first birthday cake. and it seems, so far, until now, its the only one...
Mummy: Sorry baby..
Camry: Oh, Autumn's my sister, who was the youngest of the litter, whereas I was either 1st or 2nd of the litter. We do look alike...
Camry: Autumn, my little sister who is so much smaller in size than me...
Mummy: actually, we preferred autumn to u, coz she was so much more obedient when we viewed the litter.... but she was sold too fast! Muahaha.
Camry: Summer, the labrador retriever who is SO obedient... And on the right, that's Vaishu, one of my 1st pawfrenz... its been so long since we've met up....
Camry: Vaishu and Me!!Vaishu's a golden retriever, a few months younger than me!!!
Camry: that's me! haha. I used to love hiding under Vaishu and bullying other dogs using her as a shield. THose were the days...
Mummy: YES! and not to forget u biting other dogs and then putting the blame on Vaishu by hiding under her... naughty ger...
Camry: another one. I was so smart....
Mummy: YA RIGHT? We call that irritating, not smart.
Camry: OH! I remember this. i called him Brownie, my best fren. Where is he now by the way?
Mummy: You mean u forgot what u did to him?
Camry: What did I do??
Mummy:.........
Looking thru photobucket, Mummy found many other pictures...
Camry: Oh!! My 1st model shoot for petpylove kimono series!! haha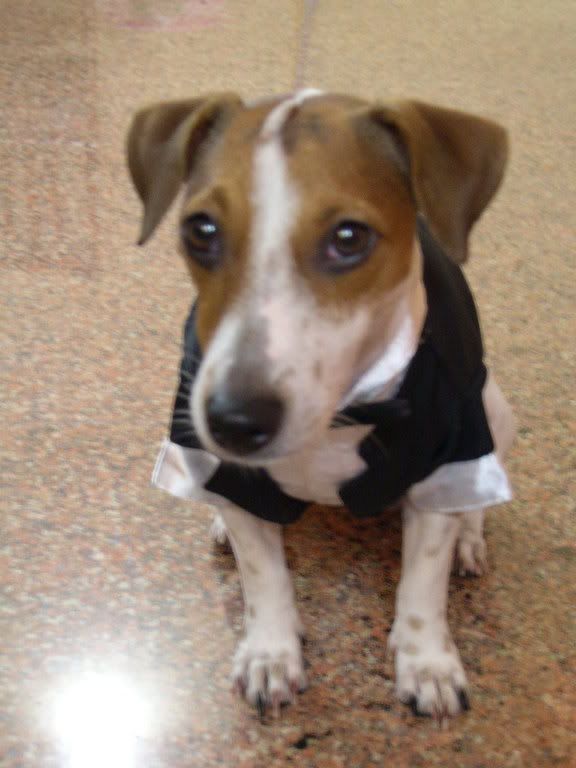 Camry: crossed dressed as a boy. AGAIN! they're crazy.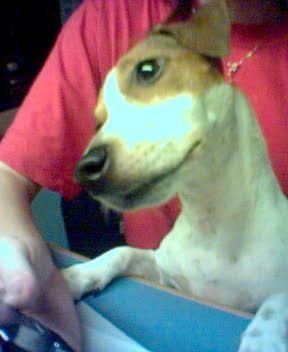 Mummy: EVER so inquisitive...
Seriously. we've got too many pictures of Camry. it'd be crazy to post all of them up.
Regardless, We wish Camry a Happy happy birthday!!:)
Oh yes! we thank all who sent in thier wishes through MSN, SMS And thru our blog shoutbox, and also facebook for CAmry's birthday!!
I promise u a belated celebration this year... WIth ur bf Max, and Belly... haha... and Yangyang.... your hump partner... I promise....:) hee..
3:48 PM


Mum was at the adoption drive at Loving pets with joey, liza and Grace... They ALL have jack+chh.. hee... Here are some of the pictures of the beautiful doggies...
CARA
She's a really sweet ger, and very small sized for a mongrel.:) Beautiful and loves food~
Name: Mia Cara
Gender : Sterilised Female
Age : 1 year+
Size : Mid size
Cross Breed
Good with people and children
Read her story here:
http://theratspackadoption.blogspot.com/
If given a chance, Cara will be as devoted to you as she was to her pups and as she is to us now. When we visit her, she is full of enthusiasm and greets us with her yelps and whines. She jumps on us in anticipation that we will take her out. She is gentle with children and loves the pats and touches. Most times she doesn't eat the treats we offer as she just thrives on our love, our words and our cuddles. Cara deserves a home full of love and she will stand guard over your household and your family as just as she stood over her pups. And the faithful dog that she is, she will never abandon you even in the face of danger. That is Cara.
HORLICKS
Name: Horlicks
Gender : Male
Age : 1 year +
Size : Mid Size
Cross Breed
Good with people and childen
Horlicks had a really sad story... We hope he finds a home to give him lots of care and love soon...
MAMA BROWN
She's SUCH a sweet doggy though timid...
Name: MamaBrown
Sterilised Female
Age : 1 year+
Size : Mid size
Cross Breed
Has markings of a German Shepherd
Good with people, children and dogs MILO
When Milo was found with a noose around his neck barely breathing, he lumbered towards the feeder asking for help. If not for Milo's youth and his strong neck, death would have been inevitable. The bruises and bloody jaw that Milo carried on that day marks how much he must have fought to escape death and his captors. Till this day, Milo has never forgotten the person who rescued him. He remains grateful, loyal and faithful and when he sees or even smells his rescuer, he will whine and howl in delight.
JUst look at how SWEET he is....:)
A beautiful BOY!
IF you are keen adopting or knowing more about the sweeties.. here's the contact details..:) We hope these dogs find their homes soon~
pls contact 98383820 or
email anaterry@singnet.com.sg and homelessinseletar@yahoo.com.sg
VIsit
http://homelessinseletar.blogspot.com
http://theratspackadoption.blogspot.com/
Oh ya, donation of kibbles, towels, shampoo, etc are accepted too~~
Let's all pray these sweeties find thier forever homes soon~
11:46 AM


Here are the pictures we took at the cafe~~ it was k9 cafe at Turf city, a pretty fun place to be at, but we liked it when it was quieter though. when there were too many dogs, the whole place was so unbalanced. esp dogs with lotsa unburnt energy...
Not alot of pictures , coz it was raining CATS AND DOGS, lighting sucks..
Chevro: My sexy side profile...
Chevro: Eh, U said u wanted to marry me? erm.Sorry, i only go for babes..
Camry: SO STUCK UP.
Chevro: better than that Ang Mo Ger lor. she cannot make it.
Cayenne: Ok, no more caucasians already... SIGHZ.
Cayenne:I can do the BIG PAW picture like jie jie too....
Camry: The 3 of us at the cafe... hee... I may be big, but I love my siblings ALOT! and NO, I don't injure them.
A few of
SHIRO~
Camry: Mum likes this shot of Shiro, coz her ears are folded up,and she's really adorable~
Cayenne: Ain't I adorable??
Camry: PUI, u and chevro are both narcisstic dogs.
Camry: I'm cuter!
Cayenne: here's my new fren, Chloe. She's so cute~
Cay: She's using me to stand up~ haha
Camry: here's the 2 monkeys in our Pack.
Camry: they're really POSEURS.
Cay: here's Belly~ He looks EMO.Prolly coz his mum is EMO too~~ muahaha
Camry: here's Belly. He's really funny... hee..
Cayenne: *wink* here's the last picture. mum's gona turn really really busy, and we wun get to go out until May. SOBZ....
CAnt wait to start going out again and for Mummy's exams to end.. she's still processing the pictures taken today for the Homeless in Seletar doggies~
Anyone has donations of kibbles, towels, shampoos? Please pass them on to homeless in Seletar! U can click on..
www.homelessinseletar.blogspot.com
10:14 PM


Inspired by Domo's parents, we decided to order the tags from TW too!!
They are so pretty! Mummy juz loves the tags.. she's intending to ordering another tag for them... yes, its a waste of money.. but they are so pretty~~
They are finally here~~~~~~~~
Camry: All 12 tags~~
Mummy esp loves Xiongxiong and Button's tags! they are the prettiest!
Chevro: Our tags~~
Camry: mine looks the best~
Cayenne: MUAHAHA mine~~~
--> shall update again soon~~ coz mum's going to go take pictures of shelter dogs later..:)
10:36 AM


Here's part 2 of our pictures at WCDR:
Cayenne: Oh, this is a really beautiful Daschund, I think it belonged to a Japanese lady?
Chevro: here's me~ I'm hot, u cant deny that~
Cayenne: Here's the plan, u go steal the fork, I steal the spoon.....that's Plan A..
Chloe: Ok, got it!
Cayenne: Plan B is....
THe CHihuahua Gang~
Button, Chevro, Chloe, Cayenne
CAMRY
, a few shots of Camry, coz she was SO busy catching flies....
We had to leash her and walk her to distract and snap her out of fly catching~
Camry:I'm wearing a cap!
Camry: see daddy's fat face!
Camry: I'm INNOCENT!
Camry: see my beautiful smile~~
Camry: Can I have my cookie pls?
Camry: Ah my nose, u sure its healed already?
Camry with Shiro
Camry: Yawnz.. these people are taking so long to take a picture, and keeps making us stay~
Camry: DONE??? I'm so sick of sitting here!
Mummy: yes, juz one more shot, look at shiro, she's so much quieter, stop complaining!
Camry with Kuro
Camry: hey pal, u know when this will end, I'm tired staying here~
Kuro: it would take 40mins usually if we are lucky
camry: what!!
Next up,
CHevro~
Showing off his beautiful teeth
Chevro: can someone carry me up pls? these people are so rough!
Mummy: NO! u are here to socialise..
Chevro: Oh well............
Very few shots of Cayenne, coz mummy was lazy to edit her phots. haha.. coz the next part, she had more pictures than anyone else.
Cay: here's a picture of me with the handsome boy! he kept carrying us~~
Cay: wow, we are looking at the camera, but the girl's not!
Cay: Argh.. I dun wanna do this anymore. u guys take so long to take a good picture.:P
Ok.. its getting late... Mummy says you guys can view ~
http://picasaweb.google.co.uk/CamryChevro/WCDREasterOuting#
for more pictures.:)
we'll update pictures of the k9 cafe later on~ tata
1:51 AM