About a mth back, Our little Cayenne did her 1st job...
Chevro: I would def be a better candidate coz I look 10x more furry than that bald monkey lor... If not for that freak hospitalisation incident..
Camry: Me too!! I am more model than that baldie Cayenne!
Cay: I was the one chosen.. so u guys stop arguing.. hiak hiak...
Look how cool I look here!!!
That's me! so cool!!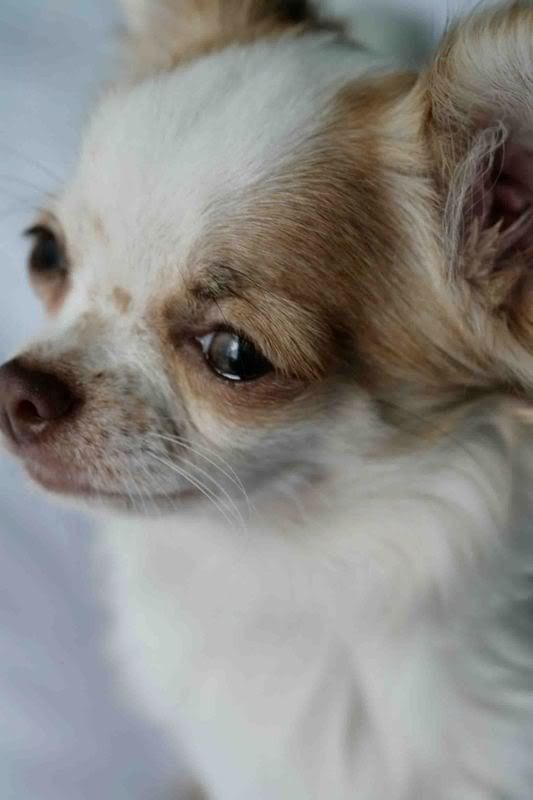 The photographer is bad at pet shots leh... cut off my little nose..
Look how compatiable we are!! same color!!
Not sure where the print ad will appear! but we will keep a lookout for Cayenne!! keke.. Pls tell our mummy if u see Cayenne in any print advertisements!!
WOof~~~
10:57 PM


www.spca.org.sg
See Chevro and some of the cute cute doggies that mummy shot from SPCA! GOod thing is.. ALL of the these dogs have found good homes!!
But, there are still so many dogs waiting for homes....
Please visit the shelter or visit the website for more pets for adoption!..
The point is, do not buy dogs on impulse, just because of the recent movie about chihuahuas!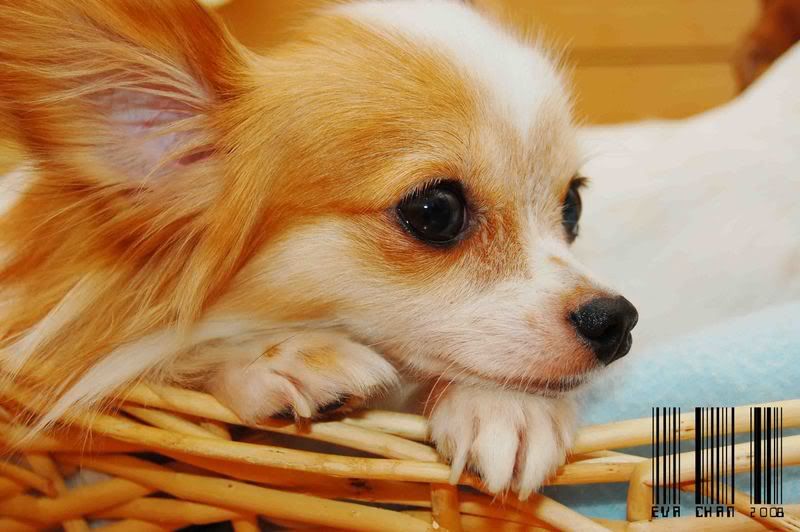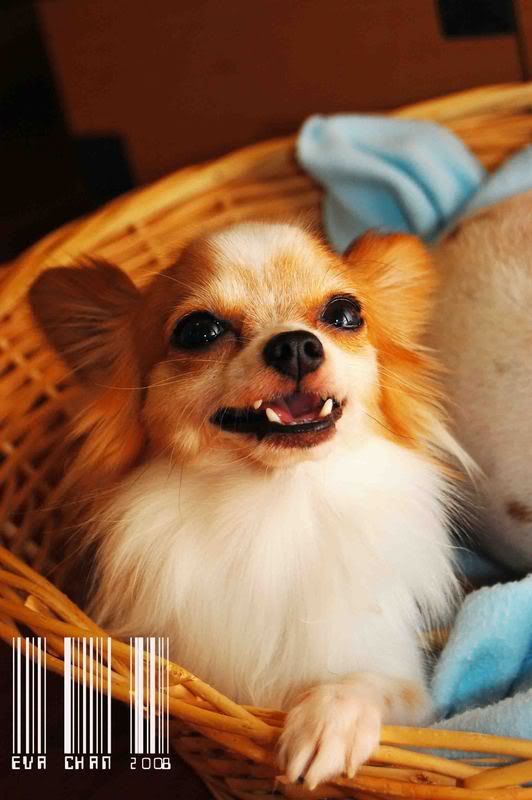 Last night, Mummy and daddy watched BEverly Hills chihuahua...
Mummy's raving over getting a GSD next. SHe's always wanted one, but daddy is against it, and also space constraint's an issue for us too... But mummy really hopes to have a GSd someday, if she has a house with a big garden. And it will definitely be an adopted one...
But it is definitely important to remember that dogs are not accessories... and
DO NOT BUY PETS ON IMPULSE!!
4:06 PM


Today, Mummy, daddy, Auntie Anna and Auntie Chu Li took us out to WCDR. The place was super super muddy, and it was darn disgusting. But we all had fun!! We are all full of shit, and it took so much more time to wash those disgusting mud off all of us..
Beautiful Portrait of Cayenne! Mummy was raving over the bokeh when she took this picture!!
It seems that Cayenne's fur already grew much thicker! thanks to Dermatrix! Hiak Hiak!
As usual, Cayenne's targetting all the other dogs..
Again! Targetting the ears...
Chevro was the only one who remained clean throughout.. coz Mummy didnt want to let his fur turn brown like Cayenne and cAmry, besides, Chevro prefers being carried anyway hee...
Cayenne's action shot!! U guys don't know how many times I had to run for mummy to get this shot!
Our first action shot together! we had to run so many times to get this shot too. Crazy mummy!
The brave Cayenne! Always crazily approaching all the dogs..
Cayenne: This dog run sucks la. No dogs want to play with me leh.
Camry: DuH! U tug our ears, tail, and paw our faces, who wants to play with u?
Chevro: Ya lor ya lor. u are damn irritating!!
Cayenne: I'm a puppy mah... of course I am supposed to play...
Camry: Alright whatever, we're all tired, and let's all go sleep...
Chevro: ZzzzZzzzz
All 3 of us are dead tired and snoring already!! Picture intensive post, but mummy prefers pictures to writing...:P
Labels: Chihuahuas, Jack Russells, WCDR
11:01 PM


All our stuffs daddy got from Aussie for the 3 of us, and yangyang and Max, brady! Thank you daddY! we all love u....
Daddy brought a new dehydrator for us from Australia, as a surprise for mummy and us. It was very worth it as it is less than half the price in Singapore!
Tmr we are all going West Coast dog run as Cayenne is finally declared tick free!!! How can the ticks even want to bite her when her fur's already yellow?
Cant wait for tmr...:)
9:00 PM


Hiak hiak! Daddy is back! and after his magical hand touched us, we are declared tick free!! But guess what, there was this stupid tick that was on Cayenne's ears juz now, it was green, I guess it was there coz we already put her on protection, so the ticks had no choice but to bite her ears...
but it was definitely the last stupid tick. and with that, we sprayed the entire house again! Mummy just freaked out when she saw the green thingy... Sighz..
To look onto something happy! Daddy came back! we went to the airport to fetch daddy today! hee..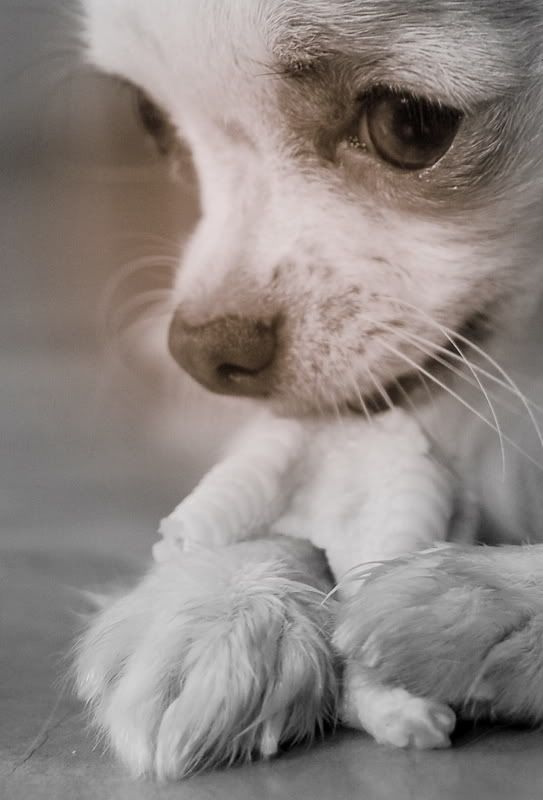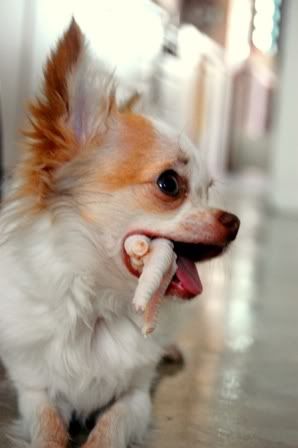 Cayenne's new chicken feet obsession..
I can chew and slp at the same time...
And we got A NEW DEHYDRATOR! ROO HEART treats, a new bouncy ball.. and... our stash ordered from vetstop, which is shared by Yang Yang and Max and Brady!
Mummy's so bz dehydrating meat and apples, that she is lazy to take out her camera to shoot any pictures, and also, she's so excited she cant slp! She says she will update the pictures tmr..
Mummy bot new clothes for Cayenne, but it was too big, so mummy tried it on Camry instead. She looked like a joker... wahaha...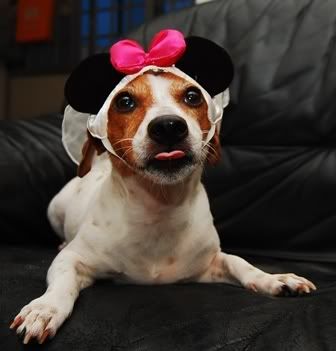 Shall try to act cute like the way Cay does it to stick out her tongue...
AHH!!! this thing is so gross!!it makes me look gross too!!
Today's such a tiring day! Mummy and daddy say I sleep like a pig, coz I sleep like this...:P with my tongue sticking out.
Chevro: You are a pig lor. i slp so much more glam than u slp.
Camry: Ya man! U snore so much! Unlike me, I slp so quietly! U pig!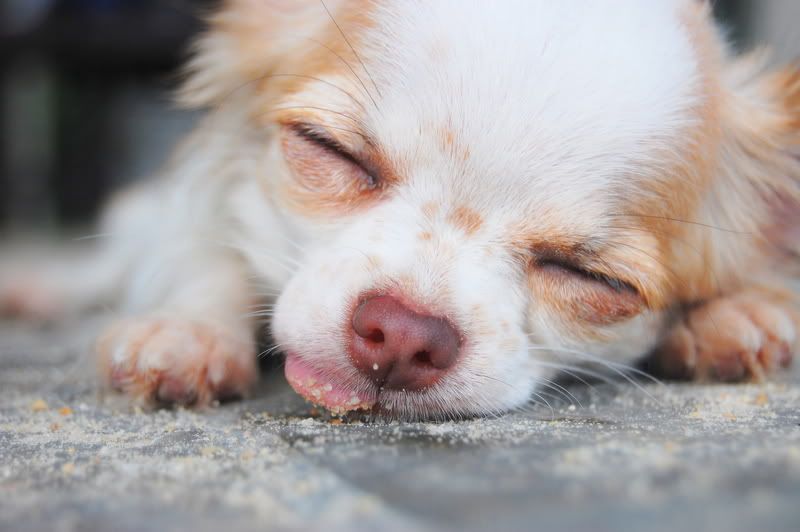 Cant wait for Saturday coz we're all going to the dog run!!!
1:50 AM


Next up, we have Chevro!
A handsome boy adopted by Mummy and daddy! Mummy and daddy saw me for sale on Yahoo classifieds, and mummy wanted to view me for fun... Daddy refused to view me, because he said i was old, male and ugly! coz the picture sent by the breeder was...
THIS!!! LOOK AT HOW UGLY I WAS!!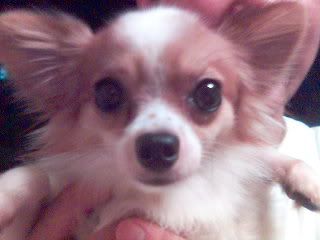 my 1st picture, taken before mummy and daddy sneaked me into daddy's hse...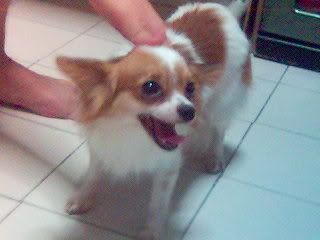 Many thought i was tiny... But I was 1.5kg when I joined mummy and daddy...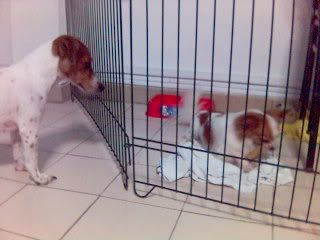 1st time I meet that Crazy Camry...
1st time I share the bed with that Crazy and greedy Camry! she's always stealing my food..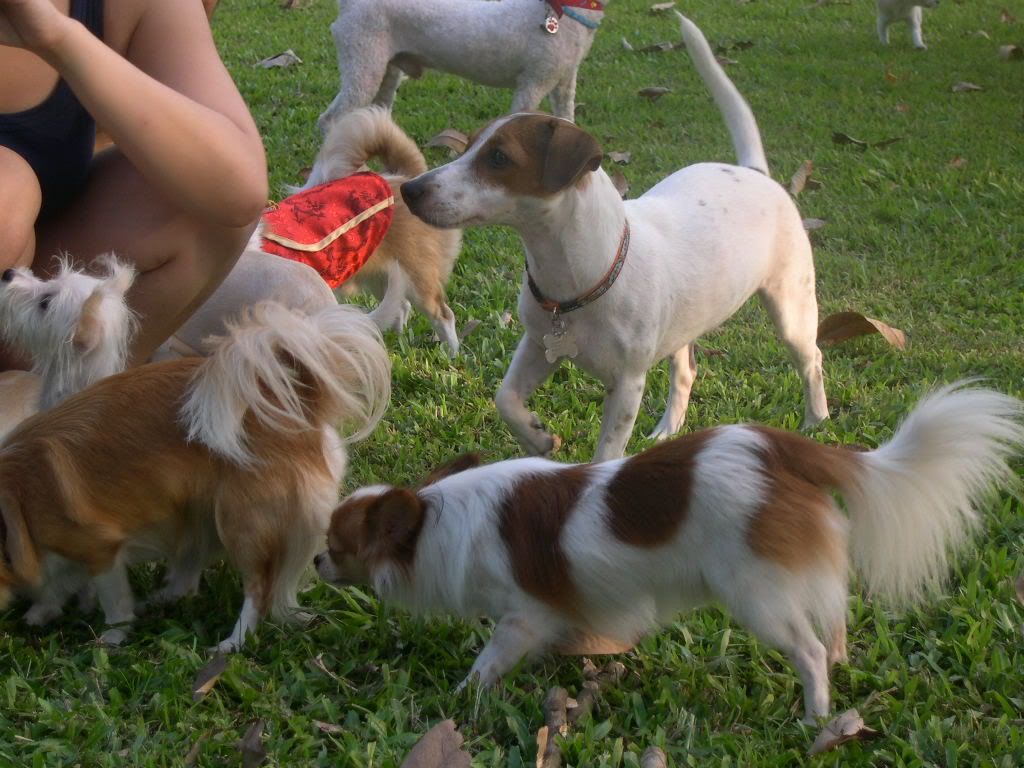 1st chibuddy outing with Camry..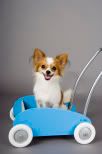 1st photo shoot at men@work...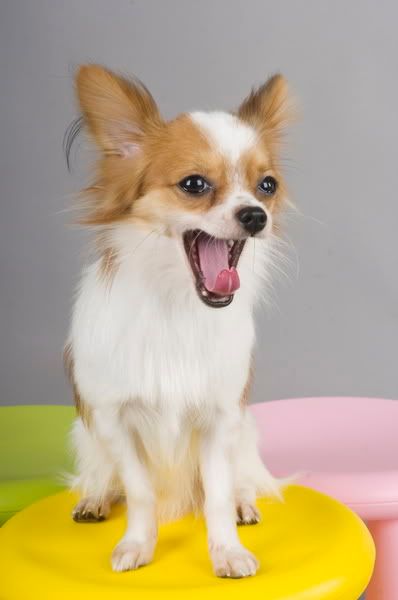 Notice I used to have 2 long strands of hair... duno why its gone now...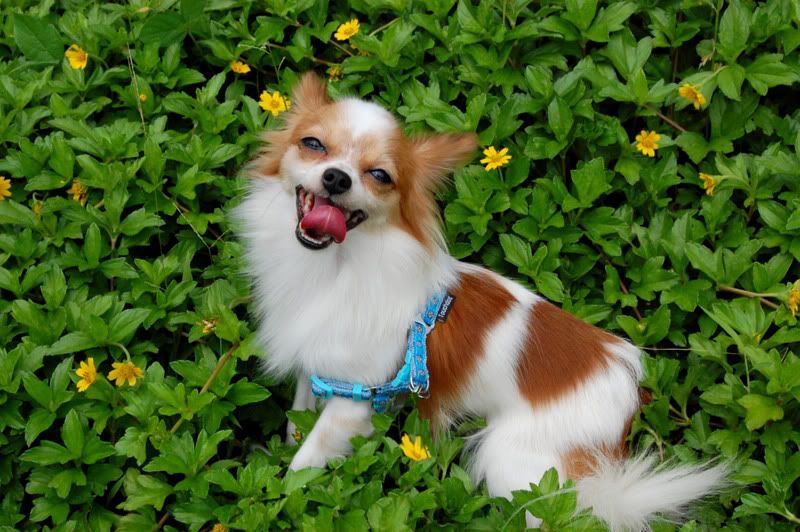 Look at how happy I am...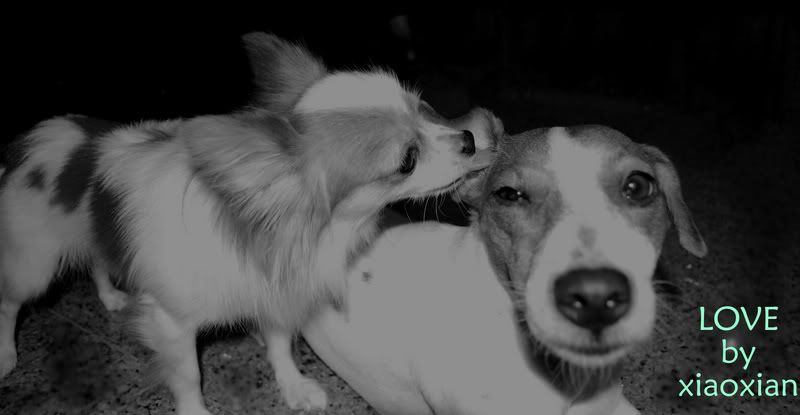 I love Camry, though she can be VERY irritating at times...
I joined mummy and daddy in June 2006... Its been 2 years plus.. and I am turning 4 next year! Now my life is turned upside down by that Crazy Cayenne, just when I am getting used to Camry. I used to hate everyone and everything, but now I no longer snap at people.
To CHevro:
Time really flies. I still remember the time when u snapped at people whenever they tried to touch you. and u leaking pee whenever we stand above u or raise our hands... We are so glad all these are already resolved. We hope that you will spend the rest of your life with us happily with Camry and Cayenne. :) Lotsa love..
4:22 PM


Today, Mummy was juz staring at us,and decided to do a short picture diary of us. Starting off with Camry..Who joined mummy and daddy 1st...
"border="0" alt="Photobucket">
THe day I was born... So tiny! 1st time mummy and daddy set thier eyes on me...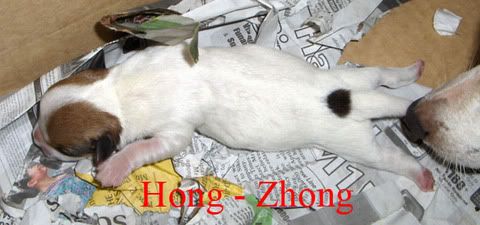 I was originally named Hong Zhong by the breeder...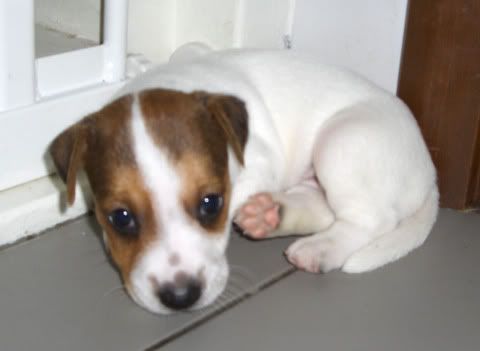 1 mth old.. Mummy saw me for the 2nd time...
Daddy said I was a born rascal, and mummy would def have a hard time dealing with me!(:P) But mummy turned a deaf ear on him, and brought me home.
1st day with mummy...June 2005... The 2 month old Camry..
1st time doing the BANG! trick properly..
5mths old, 1st time gg to the Halloween dog walk at Robertson walk! My 1st photo shooot..
another one of me at the halloween event! Look how unwilling i was..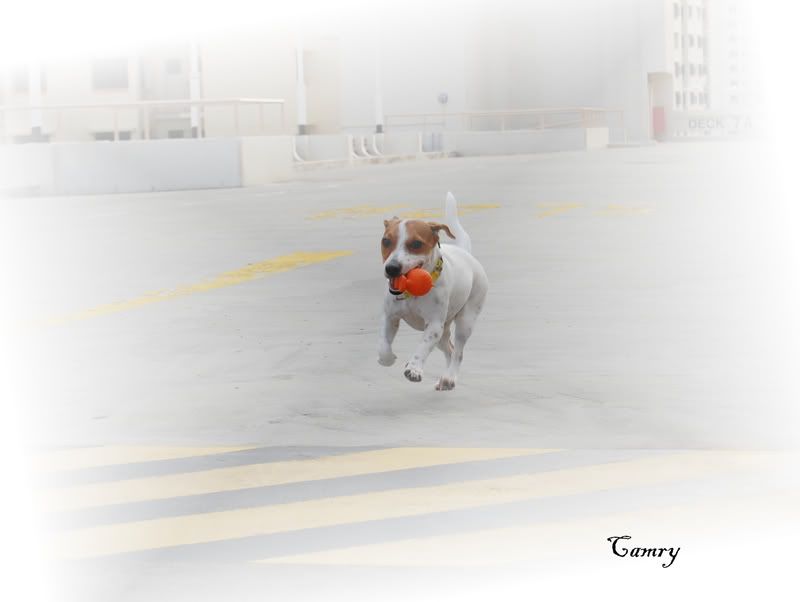 Flying shot of me, I really really love running around...
SKC DOg show, 2007, I am already 2 years old...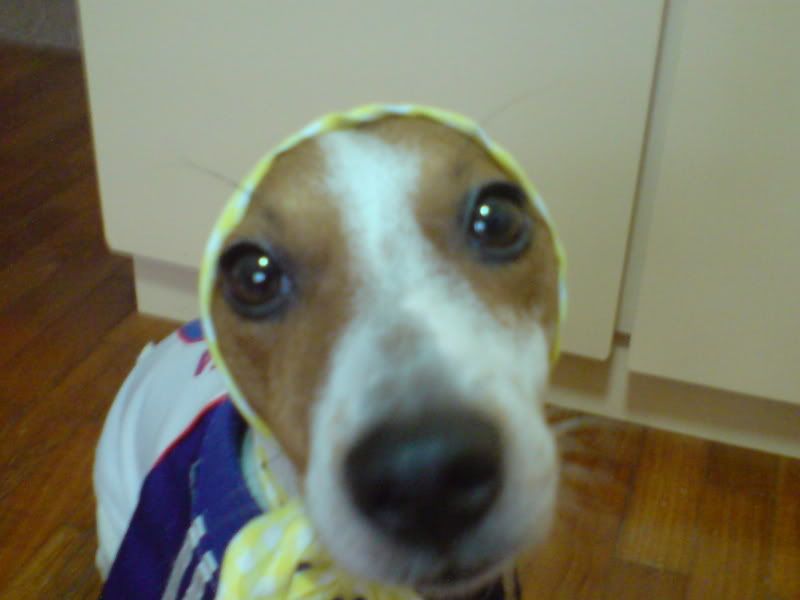 Mummy loves to dress me up...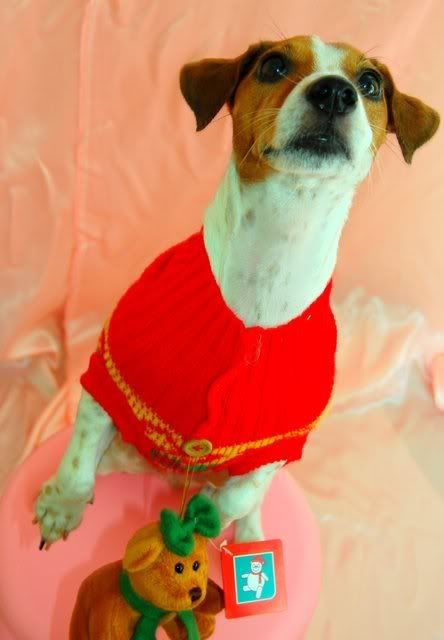 The Xmas card shoot, Coz Mummy decided to do xmas cards for all my doggie pals' mummies... keke...
Kisses to mummy! taken when I was 8mths old...
To Camry:
THank you for being there, kissing me everyday. I am so glad u are such a good ger, you are very well behaved, and obedient even after we got Chevro and Cayenne. Thank you for always being so loving,and respecting our decisions to get new additions. Thank you for taking care of Cayenne when she wasnt well and teaching her everything else. I look forward to the years I will be spending with u and ur other 2 "siblings!"
Thank you for being there for me. I love u!! *muacks
3:52 PM


5 days before daddy comes home! Counting down....
Today, Mummy sprayed the entire hse, and put
Sentry
on on Cayenne and Chevro! Its making us so wet! But no choice, Mummy's really freaked out by the gigantic ticks she found the other day... and daddy's nt here..Mummy has to settle this all by herself.
Look at how big these stupid ticks are!!! They are FREAKING DISGUSTING
Just the other day, mummy brought us to the petcafe, earth cafe, with a new friend, Miu Miu and her mummy, Elaine, a very nice lady... Miumiu's so shy, terrorised by Cayenne.
Chevro: Woof, cay u are terrorising everybody la. I hate u.
Cayenne trying to act like she has alot of hair...
The 3 of us, the only 3 customers who were there.. who asks Camry to be so huge, mummy's lazy to lug her around.. that's why we are chihuahuas....
Mummy's gota go study on Serbia again. sighz
. 5 more days before daddy's back!!
Labels: Chihuahuas, ticks
9:30 PM


Daddy has left for Australia just now. Its just Cayenne and Camry with mummy, and Chevro with grandma. Seems that Camry knows that daddy is away and waits patiently at the door for daddy to take her for walks which he usually does on weekdays... Poor ger...

Now it is just Cay with Cam.. and Cay's a really really naughty ger!
Camry jiejie, How's my paws? they are pink like urs!
Jiejie's ears are so darn nice to nibble on...
Hey Play with me...
I really love u jiejie Camry!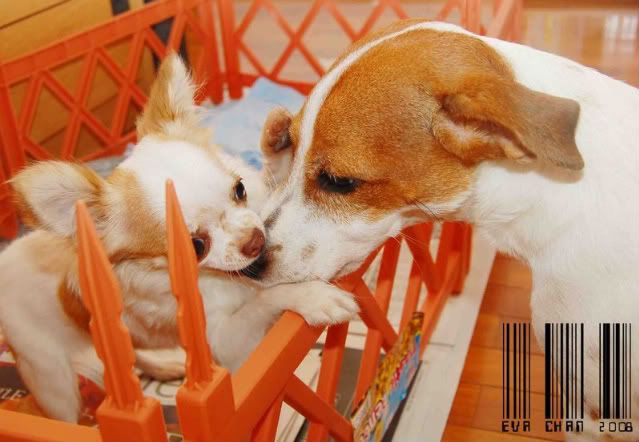 Playing is my right ok? I am a puppy, u are a big ger!
To Camry:
Mummy really loves the Cay, Chev and Cam. Camry may not be a CHH, but she's my 1st, and my sweetest dog, always the one closest to me, and we understand each other mutually, something I cant do with Cay and Chev, somehow. I really really love u and thank you for making my life complete and wonderful!:)
1:14 AM