Part 1
Part 2
These 2 videos are about Sonia, a black labrador who changed from black to white after the owner died. The vet interviewed in the excerpt had said that it was probably due to stress. Julia is the daughter of Sonia. The owner had Liver cancer and had to be hospitalised initially, and later got to return home. However, he died at home and Sonia discovered him. Till the time of production, Sonia was still waiting at the door everyday for her owner to be back.
This is a super touching video. This is just a demonstration of how faithful, loyal and attached our dogs are to us... *sob sob
10:50 AM


Hi guys!!
We're here to update our blog!:) Chevro just turned 5 on Sunday, his birthday was on 6th December. Due to recent rainy season in Singapore ever since Mummy ended exams, we havent been going out alot.. even if we do, ONLY Camry gets to go out.
Camry: hiak Hiak. of course, i'm easy to shower and easy to dry.
Chevro: Life is unfair, just coz i take 2 hrs to dry... I go out much lesser......:P
Cayenne: whatever, as long as I can eat and sleep.
On Saturday, the 5th december, we had a small little outing at Colbar with Max and Brady. But we totally forgot to take pics coz the pawrents were so busy catching up! But we did take some pictures at Sentosa.. just a couple. but the lighting was horrible...
Camry: AInt I cool! hiak hiak. Poor Cayenne. She totally missed this cool weather man.
Cayenne: Orh. I'm content, coz I hate to be freezing cold.
Chevro: Ya man. it was so darn cold. I regret going for this.
Chevro: Orh. those beagles are scary!!
Camry: not really. You're just timid dude.
And then. we headed to colbar. and then we headed home. where the pawrents SUDDENLY decided to do some xmas shots for us...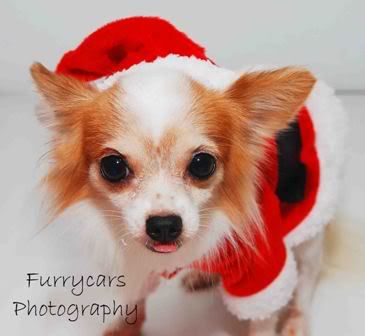 Chevro: Hi guys! Its me!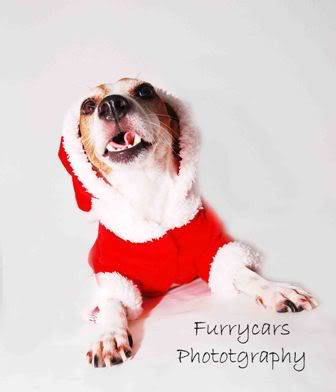 Camry: nothing beats me man. I;m the best looking jack russell terrier ever...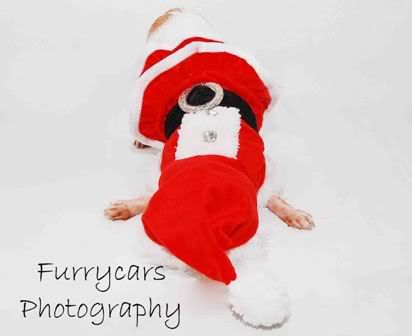 Cayenne: Yeel. I hate wearing this. its so ugly. i feel damn embarssed.
Furrycars: here's the 3 of us. Aint we cool!
CAmry: As usual, Chevro's ANTISOCIAL!
Chevro: these 2 are so sticky to one another. :P Bleh.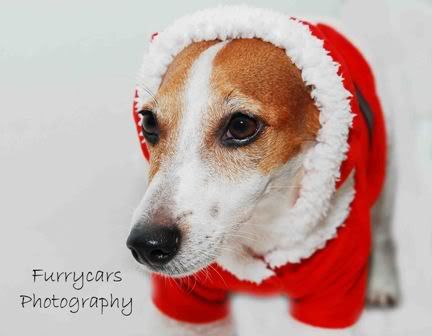 Camry: I'm tired. are we done??
Sighz. we'll try again and get better shots another day! as both our pawrents are dissatisfied with these pictures, complaining of our uncooperativeness....
Camry: especially Chevro! Its all his fault.
Cayenne: YA!!!
Chevro: There's still time before xmas, let me try again?
Anyway. pawrents are heading to Malaysia tonite... will be back on Saturday! Till then!!
7:04 PM