Mummy has been busy working on her module, Animal behavior, and she decided to observe something called the weaver ants instead of us.
In Singapore, we call them the red ants usually, but anyway, mummy took lotsa pictures for these ants(NOT US!) and here are some of the pictures! Because of this ant photo taking protocol she's been engaging in, she has then gotten the new toy, which was the Sigma lens that she hasnt really been using, coz she is waiting to get a filter as we always lick her lenses anyway.
Camry: erm. ONLY CAYENNE licks the lens!
Anyway, here are the pictures! mummy finally finished her final presentation for this semester, and now she's sitting in front of the computer all day long, writing something called papers? She still has a paper on Myanmar history and marketing paper to write. Sighz, I guess, we won't be going out much these 2 weeks... SOBZ!!!
This study attempts to test for the foraging efficiency of ants, so we feed the ants with TUNA! why TUNA? coz they dun want the honey and peanut butter we fed them!
The Chaining behavior that they exihbit when we push the leaves higher.
Cooperative behavior...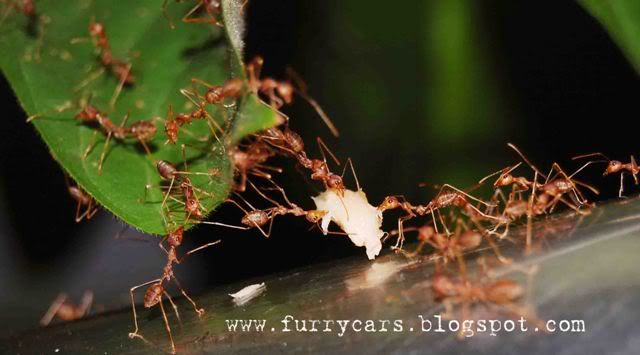 TUNA!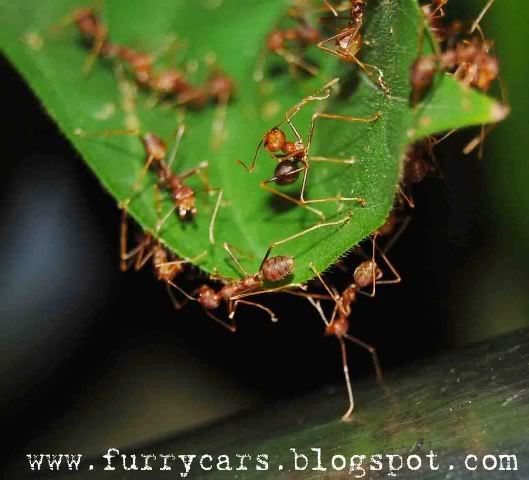 Trying to climb up!!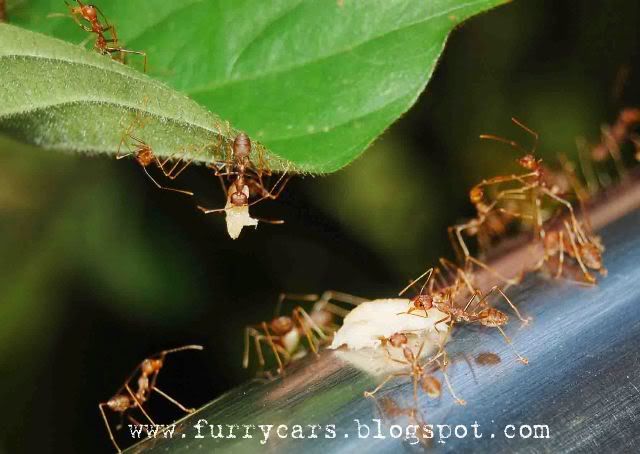 Oops I;m lost!!
FOOD FIGHT!!
I may be small, but I am strong too!
hee... the rest of the pictures will be on picasa!
http://picasaweb.google.co.uk/CamryChevro/TrailsOfTheHungryWeaverAnts#
1:51 PM


Mummy and Daddy neglected us this whole weekend, coz they went to the IT fair...
However, they came back with a new toy! a toy that they kept using to shoot at us?
So far, Mummy has been having fun with Cayenne and focusing on her 1st.. hoho.. it will be Chevro and Camry soon.... hohoho
Cayenne: YES! I'm a model, i'm star-like!Of course it'd be me for the pictures 1st!
Camry: I know! this is the standard food begging pose! So unglam.
Cayenne: THe DOG kinda pics!
cayenne: Huh? Mummy are u calling me?
Camry: Puke Puke! Acting cute again!!
Some Closeups!!
Cayenne: Hello all! I am Cayenne!!
cAy: Another Closeup!
Chevro: U look hilarious sis! wahaha
Mummy's still not very sure of how to use this Camera yet... So far... hopefully she'll learn to master the lens sooner!:)
On a lighter note, Cayenne seems to have stopped bleeding... hohohohohohoho its time to go out!!! YES!
Cant wait for this weekend's outing!
10:18 PM


Ok, we went to Bishan Dog Run last Saturday. To our surpise, no one was there! haha.
The dog run was practically ours!! It was wet, but not muddy! We all had fun!
Camry: Of couse, there were so many flies around!
Belly: I've space to run!!
Chevro: I can.. I can.. Poo around the area?
Button: I can.. turn round and round in circles?
............
Anyway, we were there with Belly and Button! It was great meeting up with Chevro, coz he's with Belly Button on vacation now? (so envious!)
Mummy hasnt had the mood to take much pictures ever since she lost her flash! She loves her flash so much, that without it, the Camera seems pretty useless.. sighz..
Here are some pictures...
Belly: hey, what are u looking for?
Camry: FLIES!
Belly: wah lao. u crazy ger!
Camry: DON"T disturb me when i am catching flies. Oh well, no one understands my obsession with flies. I dun eat them, i juz enjoy chasing them. well...
Chevro: the Sky's beautiful!
Camry: here's button, acting sporty!
Chevro: button, my room mate! He seems tired!
Camry: here's Chevro running like a crazy dog. but in fact, at a very very low rate of speed!
Chevro: Hey, i resent that, i was merely responding to the recall! What abt u? u disobedient Spoilt brat?
Camry: juz look at how cool I am?
Chevro: PUI! stop acting guai! You are the naughtiest! that's a known fact.
Chevro: I've a long tongue!
Camry: We all have long tongues too.. it isnt only u!
Camry: act emo la.
Chevro: I have always been the deep thinking one ok?
Camry: whatever la..
Back at home, we play with Cayenne! Chevro's back with Bellybutton!
Cayenne: Jie Jie! Where did u guys go today? How come I didnt get to go? So unfair?
Camry: Erm. we went downstairs.
Cay: Dun bluff, i can sniff all the scents..
Camry: we went to BDR la. u cant go, coz we all wanna protect u from other males, coz u are on heat rmb?
Cay: What is on heat?
Camry: ......
Camry: Oh, there's no alpha in this household?
Right after this picture was taken, Camry got a scolding and pinning treatment from daddy....
Camry: Sighz...........
That's all folks! Hope to see u guys soon! thanks for visiting us!
Chevro: mummy apologises for the ugly ugly pictures, coz ever since she lost her flash, she really hasnt had the mood to shoot well. sighz..
1:22 AM


We're back from the scaling!!
Chevro: I survived the GA!
Camry: ERM.. i survived it twice, so its really no big deal.
Here are some before and after pictures of the dental scaling.
Camry: Chevro seems bouncier and happier after the scaling..
Chevro: of course, since I'd have the best teeth of the 3...
Camry: Oh well, I NEVer had to do scaling! Well...
We have to thank Dr Chan for this wonderful job! she's the best vet ever, always assuring us that it'd be fine..:)
Before
Terrible teeth!! under the insistence of Joey, we decided to do it finally!!
Look at all that tar tar!!
Chevro: actually we dun have to do the scaling right? I look good even without looking at the teeth?
After...
beautiful teeth, making me even more handsome!! hohohoho
Cayenne: How come hor, kor kor still can run ard after GA? I tot mum mentioned abt Camry sleeping like a log?
Mummy: ya, i dun understand too. Maybe coz he wants water, since he hasnt had water since 10pm last nite.. vet says he can only get water at 7pm...
Cayenne: Oh! So sad.. hiak hiak...
The Thank you list.
Joey for stressing how terrible the teeth was, hence we decided after postponing it everytime coz of worries of GA.
Dr Chan for again, saving Chevro's life. hiak hiak.
Wil upload last week's pictures soon!:) pardon the lousy picture quality, coz mummy's camera's out of battery already. sighz.
So long! we're off to sleep.
5:31 PM


Dear all,
Mummy promises to upload the pics of the saturday outing we had at BDR soon. She's bz and freaking worried coz Chevro's gg for scaling tmr, and he has to be under GA.
Camry: mummy, u're thinking too much, I survived 2 GAs!!!
Cayenne: Duno what is GA, but kor kor wil be fine la..
Sighz. praying hard Chevro would be fine. I cant bear to have anything happen.
Love u lots Chevro!!
Chevro Boy! We love u!!
11:36 PM


It suddenly dwelled on me that our dogs are totally subjected to our discretion. How we view our dogs would affect how their lives turn out to be. There are so many cases of dogs given a new lease of life with new owners, for example, my little Chevro. However, there are people who just give up on thier dogs when problems arise.
It seems that the fate of our dogs are totally dependent on who thier owner is. Once their owner gives up on them, their fate is sealed, and this demarcates the end of thier lives. How fair is that to them? Who determines which dog follows whom? Sighz..
Some people only think of giving up when problems arise from thier dogs, while others try rectifying the problem. I've seen several cases around me, just these 2 days, where some people just try to dump dogs they think they cant train or to ask others to train thier dogs for them, and expecting to get a perfectly trained dog back.
How naive is such a thinking? Do these people even understand the bonding that one is able to obtain when they do the training themselves? Do they understand how the dogs feel when they are shifted continuously? Period, these people are simply being irresponsible. Coming up all kinds of futile EXCUSES to explain their own irresponsibility.
All we can do is to take better care of us dogs, treasure them for who they are, and taking extra care not to HUMANIZE them too much. SOmetimes, your idea of doting on the dog as a kid, and treating ur dog as a human being is simply just the root to future problems arising.
With this, I am more determined to retrain Camry, by kicking her out of the room, letting her sleep in her own bed. She's a dog afterall, no matter how sweet and how close she is to me. She would only enjoy life best if she's treated as a dog. Its innate, its IN THEM.
I am back to the old catch line i've seen on SPCA posters since I was a juvenile.

" To you, He may be a dog. To him, you're EVERYTHING".
12:39 AM


Last Friday, mummy and daddy watch Marley and Me with 8 other doggy parents!
Mummy cried from the point Marley started ageing, and her eyes were swollen for 2 whole days.
Here's the Trailer..
http://marleyandmemovie.com/
Mummy has had this book for 2 years, but never read it. She was bz reading cesar millan.
Camry: I think she'll start reading soon. Juz like how she went crazy over this movie, MY DOG SKIP! JRT owners MUST watch this movie. its very nice too!
This movie reminded mummy and daddy of the time they got Camry. She was a little rascal, exactly 2 mths old, joined their peaceful life and turned it upside down on
23rd June 2005.
Here's the selection of Marley!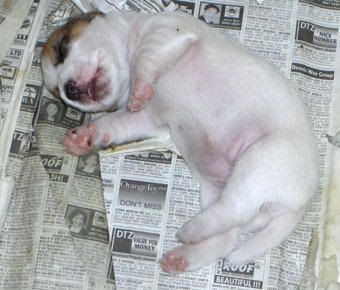 Mummy: Mummy's 1st time seeing Camry. too bad yahoo photos are gone, if nt we'd have a picture of Camry's litter mates as well. but well, Camry, was a CLEARANCE PUPPY! lol she was the 2nd last one to go. her other siblings were already sold.
Destructive Marley..
Ok, maybe not as bad but still...Destructive
Posing at Sentosa....
Chasing after Marley....
Naughty, yet submissive, and willing to be manipulated..
Naughty Marley who ran and ran and ran!
naughty Camry WHo ran and ran and ran AS WELL! then end up we have to chase after her?
As Marley aged, he was able to sit beside John quietly...
AS Camry aged, she was able to sit beside quietly as well.(well, not THaT old, she was 1 year old when the picture was taken though)
Our 1st photo together... hee.. this was so darn long ago. Camry was so much tinier, daddy and mummy were so much younger...
Mummy: sorry to have the ugly faces of us there.. hee...
We see so many similarities as we watched the movie. And we are also able to feel that same ageing feeling. Of course, Camry's ageing together with us. but Still, these memories she's had with us are countless, and precious, and definitely unforgettable. Thank you Camry! for being part of our life. we're looking forward to our future house with you in there!
The movie was given only 2 stars by new paper. but we'd give it a 4 star! its really a wake up call for dog owners to treasure their babies even more than they already are...
With that, updates on the 3 monkeys.
Cayenne: ON HEAT. DANGEROUS.
Chevro: BOARDING with BELLY BUTTON. Or shld we say cohabitating?
Camry: REtraining in progress. getting naughtier.
Sighz. 3 of u have to be problematic at the wrong time when daddy and mummy are so bz and tied up with work.
1:33 AM


Yesterday, we got this PM from this dumb guy who's soliciting Stud services. I suspect he prolly thinks Chevro's a ger? the common misperception!!
View Private Message
From: soldier
To: xiaoxian
Posted On: Mar 2, 2009 04:48 PM
Subject: Hi
Message: Hi its me soldier i have a handsome male chihuahua 2 years old med built long fur looking for a beautiful female to mate with him keen pls let me know tks.
Chevro: I know I look like a ger.. But.... Sorry, I'm a dude. And I have lotsa gfs already...
Chevro: Aint I hot? Look at my body! The long fur, that Camry and Cayenne the botak monkey doesnt have... hoho
Camry: Anyway, we checked out the SKC pics, and here are some FINDS that we had from the website.
As usual, I'm the main character in this case! Coz Cayenne was down with her heat, and Chevro was SO LAME, sitting there doing NOTHIng.
Camry: Pick up your toys!
mummy: Put inside the box.
Camry: Eh, put what inside which box?
Mummy: ALAMAK!
Camry: see, i still got 2nd?
Mummy: Ridiculous Win! U didnt do anything ok ger? Sia SWAY!
camry: getting ready for the doggy race thingy.
Mummy: surprise win again. Mummy tot u were last?
Camry: I was 3rd!could have done better if the MC didnt tok for so long.
mummy: Go Camry!!!
We didnt know we won anything, so we missed the prize presentation anyway. lol.
Anyway, the pictures are from the SKC website! Mummy tot the pics from the last show looked much better... well, anyway...
Looking forward to Saturday! We're all going out to play!!!!
11:14 AM