Hello guys!!
We havent been updating as Mummy was away in korea for a week.. And we havent been out often... Sadly.
Today we attended Cookie's Birthday party! Pictures will be up soon, as mummy didnt bring her camera today, and used Joey's Camera instead... shall wait for her to upload the pics for us...
But anyway, here are some pictures from our doggy outings these few weeks...
Camry...
Chevro..
Crazy little Cayenne...
Our Friends...
As there are simply too many pictures and too many accumulated overtime... we have decided to work on a collage for this entry! hehe.
AS mommy just came back from korea, we will have some pictures of Korea coming up soon!:) Stay tuned!
1:02 AM


Hi guys! We're sorry for the late posting.. Ever since mum started school, she's been SO busy with her school work that she doesnt even have time to bring us out.. She's hoping this final year of her education would be over soon too...
In 2 weeks time, mummy's going to this place called Seoul, somewhere in Korea.. As she is going to the DMZ( demilitarized Zone), we are all praying hard that she'd be safe and sound.
We apologise for the ugly watermark in the middle of the picture, coz we're tired of our pictures being stolen. And we decided we'd not pursue the matter regarding the pictures, because it is simply too time consuming, and Mummy thinks she'd rather spend the time focusing on her Honours year rather than on ridiculous people. We take this as a lesson learnt.
Last week, Mummy took us to Hort Park, after her Japanese lesson.. We've not been going out alot ever since mum started school..
This is a new park smacked right in the middle of Singapore.. near Sentosa..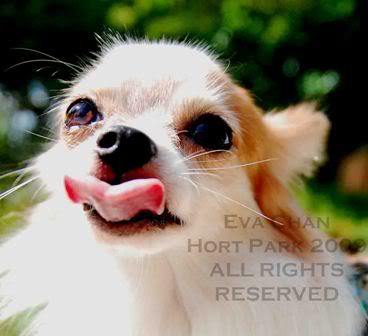 Chevro: Wow. its really been ages since we came out. Evident from the fact that our blog hasnt been updated for very long! As usual, I look the best. muahaha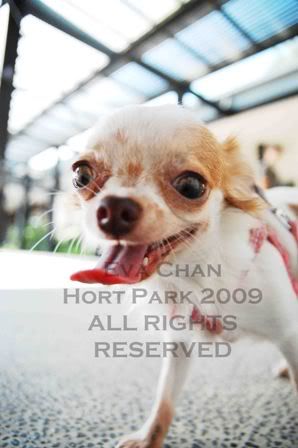 Cayenne: Hello All! Long time no see! I'm no longer a puppy! I am 1.5 years old already! though i still look like one, I am not a puppy!
Camry: This park is really beautiful. But it is simply too hot! We dun call this HORT park, to us, its HOT PARK!
Camry: this is Chubby. She's a Jack rusell Chihuahua mix, long coated, and really sweet.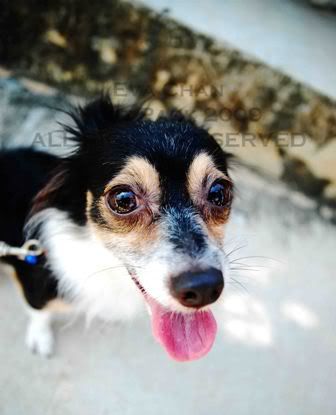 Camry: another one of her! Oh, where's my picture??
Camry: here;s the 3 of us. I really cant stand that crazy Cayenne.
Cayenne: what what? did u call me?
Chevro: Man. U 2 gals are SO ROUGH! I seem to be the most civilised one?
Camry and Cayenne: SQUEEZE!!
Chevro: stop squeezing me!!!
Chevro: this is Mimu. SHe's abt the same age as Cayenne. Very very very pretty and cute!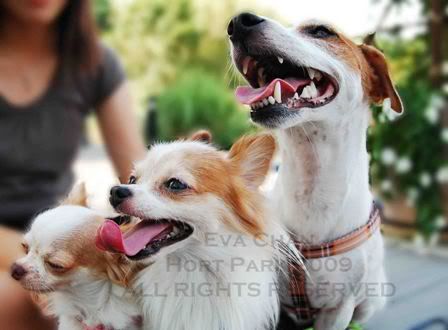 The 3 of us in terms of Size!!
Camry: the 2 smaller ones? WHY AM I CROPPED OUT OF THE PICTURE?
Mummy: coz u were.... erm... Peeing?
Camry: are u done? I am tired!
Chevro and Cayenne: YEs yes? When can we start running about?
The 3 smiley furrycars!
Camry and chevro: as usual. she looks CRAZY.
Cayenne: NO I AM NOT!
Chevro:What is this?looks disgusting?
Camry: I duno, let's check it out?
Chevro: This is APril, she's 16 this Year. Still very pretty and sweet!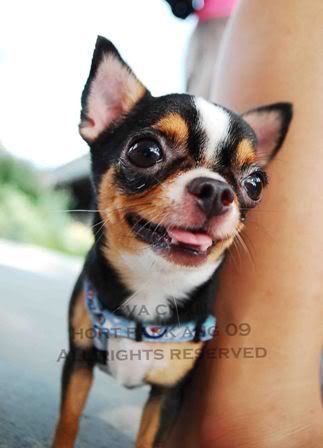 Camry: Another one of Little Mimu. Looks so much more "cuter" than that weird weird Cayenne.
Chevro: ya ya I have to agree.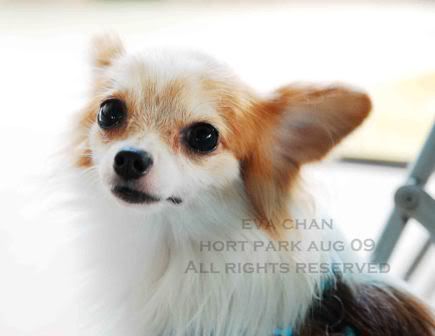 Chevro: Ain't I handsome?? This was taken at COLBAR( colonial Bar)!
Camry: hehe. yes, COLD BAR AFTER HOT PARK!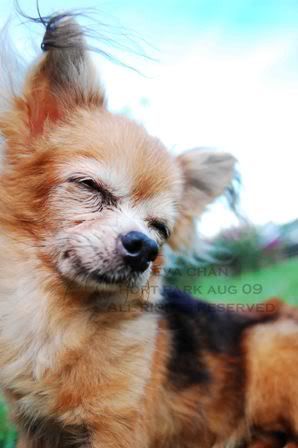 Camry: mummy likes the feel in this shot of APril.
Camry: GIMME BACK MY BEE!
Chevro: No, no. I am just looking.
Cayenne: Yawnz...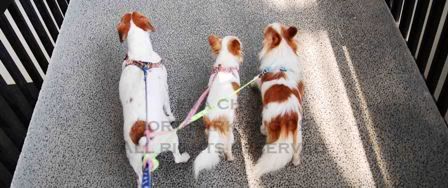 Thanks for viewing guys! here's Us! the Furrycars! AInt we cool!
We Would like to thank readers for all their replies and advices regarding the photo issue, and your continuous support of our blog though we seldom update it..:) we'll try to update it more often! and Many thanks for your constructive advices my pawpals and human friends! Special thanks to Honey the Great Dane and your Human, Hsin-yi for always visiting our blog.:)
11:29 PM